This is how you
get shit done.
Smart, effective goals & planner template for with built-in feedback loop. Notion
What's your
2023

resolution?
Pick your goals. No fluff, so you can focus on
getting shit done.
It's about showing up. Don't worry about running 5 miles every day; you are succeeding simply if you put your shoes on. 👟 If you can do that, the rest will fall into place.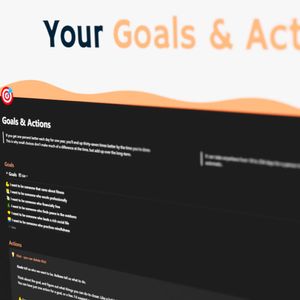 A planner with a built-in feedback loop, so you get the
important shit done
The planner forces you to evaluate your priorities every day, and break down overwhelming tasks into smaller pieces.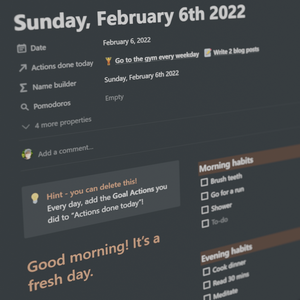 Check how you're doing. A progress bar for your life. 💯
See all your goals on one screen, highlighting where you're falling behind & where you're on track. You'll know what to prioritise at a glance. It's all about getting 1% better every day.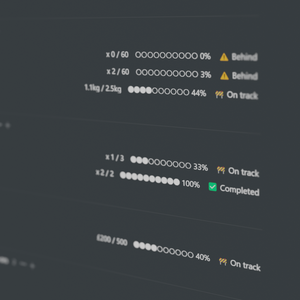 Frequently asked questions
What happens when I buy the template?

You'll gain immediate access to the template, where you can then duplicate it to your own Notion Workspace. It's yours to keep, forever, and you can tailor it to fit your needs.

What is this for?

Get Shit Done is a template for the popular free productivity tool, Notion.

How do I set up the template?

There's detailed instructions with examples included in the template, and the video above is also a tutorial.

I know a feature that would be useful for me!

Awesome! You're welcome to suggest the feature to me. Get in touch!

Is there a refund policy?

Of course. If you're having a problem, get in touch with me! We'll sort something out.

Can I give this to with my friends?

I can't stop you, but you would be giving many hours of my work for free. So please don't!

I have another question!

Get in touch with me using the bubble on the lower-right corner, and I'll answer swiftly.